167. READ.LOOK.THINK.
"... I've always been asking the world, 'See me, see me, please.' And now I'm, like, 'Don't see me!'" PLUS: The problem for realist novelists, a cookbook, the ethical obligation to be unrealistic.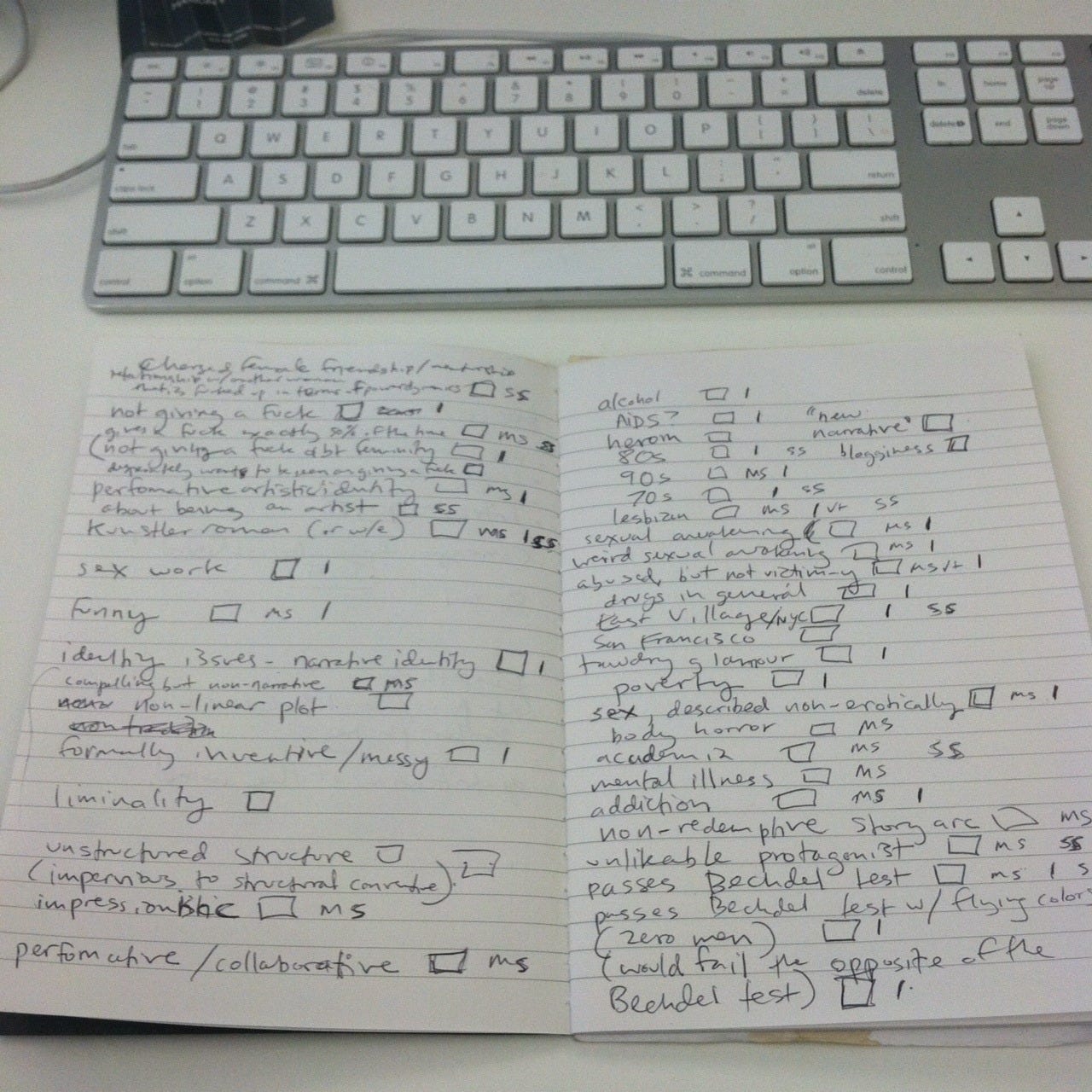 Emily and Ruth's list of attributes for an Emily Book (2013). "We wanted to read books by women about the most uncommercial, unattractive aspects of their lives – memoirs without redemption arcs, novels without marriage plots and tidy, happy endings. We wanted to celebrate narratives that took place outside of convention, outside of heterosexuality, outside of a world that men controlled. We wanted literature that gave no fucks about how it was received, or, alternately, exposed the ways in which giving a fuck fucks you over in the end. Women should not have to apologize, conform, or transform in order to be heard." Goodbye for now, Emily Books <3
READ.
"The realist novelist who wants to acknowledge Trump, climate change, and the rest has to speculate in a different way. She need not present an argument, but she does need to present an interpretation of themes and events that will have been thoroughly picked over by the time she gets to them."
Samin Nosrat: I was always very aware that I was different, and I didn't fit in, but I was also always trying very hard to fit in by being the nicest, the smartest, the most polite—whatever it is you need from me so that you and your people will accept me. I don't regret that it's how I coped with things, because it's what makes me able to be available for all people—it's a superpower. But I do feel like I've always been asking the world, "See me, see me, please." And now I'm, like, "Don't see me!"
Esther Perel on couples therapy: "what you're aiming for is flexibility and adaptability, so that these two people can engage in multiple different configurations with each other, and not all the time the same thing". (The closer we feel toward someone, the less likely we are to listen carefully to them.)
I feel like I've been reading a lot but mainly weird books about survival, eg The Unthinkable: who survives when disaster strikes, and why. | Deep Survival | How to Survive.
LOOK.
Roasted tomato soup with mozzarella.
Do you follow The Holistic Psychologist?
I think I have posted about the beautiful food of @werebros before. She is doing a second printing of her charming cookbook.
Never enough Margot and Fergus content. (Their house!) And this interview with Margot and her business partner, Melanie Henderson:
MH: A lot of chefs have influenced me.

MA: I think The River Café in terms of its female partnership, and also its simplicity.

MH: And Rose Gray didn't start The River Café until she was fifty, which is really inspiring. It's good to keep saying that to yourself everyday!
This Life is on iPlayer.
THINK.
"Give me a man but in the body of a woman I still want to see naked."
If one takes the view that it is simply not realistic that a woman can be elected President, one speaks in a way that seems both practical and knowing. As a prediction, it may be true, or it may be shifting as we speak. But the claim that it is not realistic confirms that very idea of reality and gives it further power over our beliefs and expectations. If "that is just the way the world is," even though we wish it were different, then we concede the intractability of that version of reality. We've said such "realistic" things about gay marriage before it became a reality. We said it years ago about a black President. We've said it about many things in this world, about tyrannical or authoritarian regimes we never thought would come down. To stay within the framework of Realpolitik is, I think, to accept a closing down of horizons, a way to seem "cool" and skeptical at the expense of radical hope and aspiration.
Judith Butler on the ethical obligation to be unrealistic.
If we can't form carefully sifted cooperations with well-intentioned people on the 'other side,' we have no hope of eventual reconciliation.
and
Past injuries, however, are past. Pain creates more pain and does not repair the original injury. The proportionality of pain to past pain is, by itself, never a reason for a harsh punishment, and it typically distracts from the task of fixing the future.
Martha C Nussbaum on the role of victim anger in political struggle.
"You didn't want to offend him because you wanted what he had to offer!" Rotunno said, to which Mann responded, "He had a lot of power." "And you liked that power!" Rotunno pounced. This time, Mann responded a bit slowly, almost as one does to a child. "It was in my best interest not to hurt myself," she said. "But I didn't want to massage him."
Naomi Fry on the Weinstein trial and the myth of the perfect victim. (I also listened to She Said on audio — so good.)
Sex is social, emergent, and responsive; it is a dynamic, a conversation. Our desires emerge in interaction; we don't always know what we want; sometimes we discover things we didn't know we wanted; sometimes we discover what we want, or don't, only in the doing. This feature of desire—its uncertain, unfolding quality—is frightening. It's frightening because it opens up the possibility of women not knowing their own desire, and of men capitalising on that lack of certainty by coercing or bullying them. But we must not deny this aspect of desire as a consequence; we must not insist on a sexual desire that is fixed and known in advance, in order to be safe. That would be to hold sexuality hostage to violence.
Katherine Angel on consent.
Your behavior determines what kind of person you are, and not the other way around.
X
Jess