174. READ.LOOK.THINK.
Communion has occurred, plotblocking, Hermione Lee, elite panic, disaster nationalism, Reputation Rehab. "Use a little lip rouge, to begin with." And a sandwich.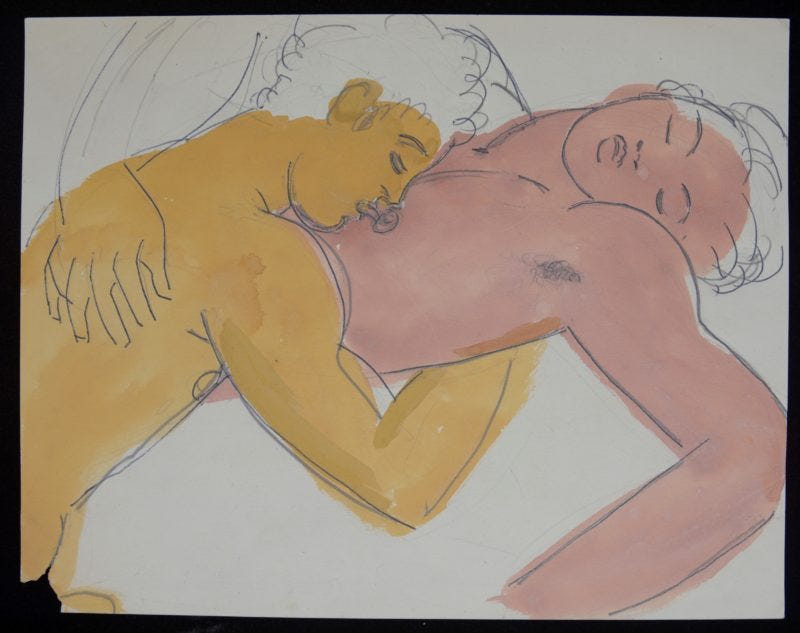 "The folder marked 'These drawings are very private' have remained in private hands ever since, a secret collection passed from lover to lover, friend to friend, for 60 years…"
READ.
"I often find myself perusing the shelves at Prairie Lights, a bookstore in Iowa City, where I live, reading the jacket copy of a recent release, sighing with friends that we don't have time for another story about x or y, and setting it back on the shelf unopened. Often these judgments are framed as jokes, though they are half in earnest. They make me laugh sometimes; they also make me worry. The desire to invert a structure of injustice—to inflict on those we take to be the bearers of privilege the disregard they have inflicted on others—is one I very much understand, one I feel in myself. But it is always ethically suspect to speak of any human experience as irrelevant to our common human experience; it is always, let me go further, an act of something like violence." Garth Greenwell.
"Ideally, in criticism, you're making use of everything that has formed you – life, memory, childhood, anecdotes, bits of experiential wisdom, music, your reading, philosophy, theology, theory, what have you – in order to bring all that to bear on a text that, if rich enough, is simultaneously teaching you something you are learning for the first time at the precise moment of your own 'grand explication.'"
"Sometimes, in the signing queue, I see a pair of eyes quietly telling me that communion has occurred."
"Novels when they succeed are incoherent and contradictory and mysterious. Nothing is more secondary to a writer's achievements than their original ambition."
"Use a little lip rouge, to begin with. Beauty may bring you experiences to write about." The lesbian partnership that changed literature.
"[Lee] talks about finding unseen letters from Woolf's brother Thoby Stephens simply by asking the right person – Anne Olivier Bell, who was part of the Bloomsbury Group – if she knew where they were. ("They're in the attic," was her cool reply.)" Hermione Lee profile / good podcast interview.
"This quiche was the one his mother had left in the fridge as a welcome meal. In my opinion, it was a small quiche considering the length of our train journey there. I could easily have eaten two quiches rather than three-quarters of one. In hindsight, the problem was not eating an inappropriate portion of a small quiche but my unwelcome presence in his family's home."
Wesley Morris' moustache. | Helen Garner's Lockdown Diaries. | Plotblocking.
If you're wondering whether to read the Dolly book, it's a yes from me! It's a novel of ideas compellingly strung together in a cosy package. I guess it's like an early Nicci French where the mystery is not "how did the victim die" but "why are people like they are?" It is also the only acceptable kind of comedy: deadly serious emotional truth with occasional good jokes. Rather than just trying to be funny: Ghosts.
LOOK.
Ages ago I was the blessed recipient of an electrifying WhatsApp VM from my friend Sophie Braham with the central insights of what has now become her first television show (made with her talented collaborators). It's called Reputation Rehab: "A show that believes people don't deserve to be consigned to the cultural scrapheap, that most people are more than a punchline, and everyone deserves a second chance." Sophie has been the head writer on Gruen for years so imagine celebrity and scandal picked apart in the way Gruen went behind the scenes on advertising. It starts Wednesday 28 October 9.05pm on ABC TV + iview. This is an Australian show but I just know it will be syndicated for local scandals everywhere so keep the title in your mind, you'll see it eventually.
Halloumi and apricot jam sandwich. | A children's playroom dedicated to their granny. | The Towpath cookbook. | Jude and my friend Randall's incredible documentary about Maggi Hambling: Making Love with the Paint. | I loved ROCKS!
THINK.
I've been sharing this link when people need cheering up: Prepare for the Roaring Twenties.
The only people panicking are the people in charge.
Leveraging the fear of, and desire for, catastrophe, disaster nationalism is a current that runs through the entire history of nationalist politics.
Instagram is the new home for hate. The women making conspiracy theories beautiful.
I Am Not a Housewife. I'm a Prepper. | America's Plastic Hour. | Urn. | Black joy.
"we should all have something to hide" / "Acquire as many secrets for yourself as you can."
Sending STRENGTH and HOPE to Americans ❤️️
X Jess
On Instagram: @dailydoseofjess Twitter: @dailydoseofjess
PS. If you've been forwarded this email and would like to receive future editions, sign up here — but as Mrs Farleigh once said on the last day of class before Easter (handing everyone in Year 8 Latin a peanut M and M wrapped in a newspaper scrap), don't get too excited. It comes out once a month if that.
PPS. Did you know you can leave comments on each of these on my Substack? I think click the link to get there somehow and you can share feedback or reccs.