211. READ. LOOK. THINK.
Why bother? The rom com, the curtain call, agoraphobic fantasy, you should feel guilty for nothing, food as replacement caregiver, this one genius show I can't live without 💀
READ.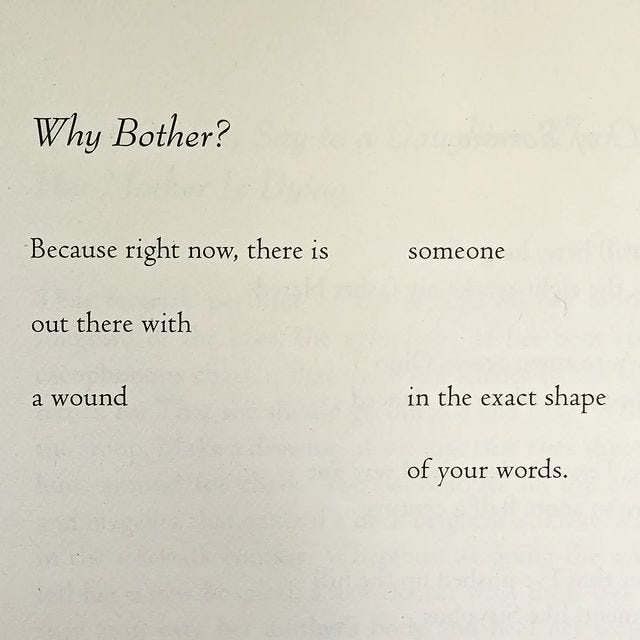 Helen Garner on happiness.
"Which is the most painful thing that can happen here, by which I mean the most funny?
Sex, love and the state of the rom-com / 'The stories are things you can change. You can decide to stop it. You can start a completely new story. Or you can rewrite a different ending to the story. That story gives you a lot of agency. Not control — agency. And agency comes with freedom.'
For those who stress about forgetting what they read. Forgetting is a filter/you're building a sensibility.
'None of that false humility. Stand up there. The applause is for the audience. It is actually not about you. They've been sitting there attending to this evening. They complete the circle.' 
Moved by this piece by Osman Yousefzada on the death of his mother.
LOOK.
Another nice kitchen. And another. And another. A pretty bathroom.
I can't rave enough about the dark comedy/crime TV show Mr Inbetween. Lots of people recommended it to me when I was in Australia (where it was created). It is a work of pure art, I sobbed and sobbed at the season 2 finale. (Commented that on the creator Scott Ryan's IG and he gave my comment a fave, which means I am a genius now too, by transmission.) It's on Disney+ in the UK. I told my family about it and they watched the trailer and sort of censoriously told me it looked too violent. It's not too violent! Don't watch the trailer!
THINK.
I don't think I am the only person gently obsessed with the advice of Australian (?) agony aunt Eleanor Gordon-Smith. I thought her answer to this, from a man who says he is 'technically an incel but not a misogynist' was so smart. See also: Susie Orbach on Andrew Țațe.
Just hanging out.
The agoraphobic fantasy of tradlife. (Joins Salt Fat Acid Heat and Conflict is Not Abuse in the category of 'titles that sum something up so well reading the full thing is almost not needed.')
 'There are stories of dentists who say that their patients cling to their phones when a treatment is painful. Why do they do that? Thanks to the smartphone, I am aware of myself. It helps me to be certain that I am alive, that I exist. That's why we cling to our cellphones in situations like dental treatment. As a child, I remember holding my mother's hand at the dentist's office. Today the mother will not offer the child her hand, but a cellphone.'
'Whenever I'd hear white friends talk about impostor syndrome, I'd wonder, How can you think you're an impostor when every mold was made for you? When you see mirror reflections of yourself everywhere, and versions of what your success might look like?'
'I don't blame people for having this interest, but I'm terrified because I am human and I'm not perfect and who knows what people could find about me. Somebody could make up a lie about me tomorrow and ruin my life. I feel powerless about my own identity at times, because I feel like it's in the control of the public.'
'One way to dissolve a binary is to queer it. Theorist Timothy Morton writes, "It's not that ecological thinking would benefit from an injection of queer theory from the outside. It's that, fully and properly, ecology is queer theory and queer theory is ecology." The best take, perhaps, is to embrace the idea of our interdependence. The idea that we are all made of the same stuff, yes, but also—critically—different, and only in the embrace of those "multiplying" differences will we finally come to intimacy, and care, into the "polymorphously perverse belonging" that is true collectivity.
'You should feel guilty for nothing' says Judge, as he finds seven guilty and acquits two for disrupting Esso terminal in Birmingham | 'The desperate, frantic search for a conspiracy or a plot, anything which would mean not having to read those words and feel their impact.'
'Modern internet culture has adopted therapy-speak while repeatedly setting fire to the actual lessons of modern therapy. It's a bizarre spectacle, like a hospital where fake doctors know the words for every disease but half of the surgeries result in sepsis.'
'It's really important to respect that food has been a replacement caregiver for some people...'
When did hospitality get so hostile? (I got this from Lukas Volger's Substack, I love his cooking.)
Jess
X
PS. It's just been the one year anniversary of my book being published! It's been nominated for two awards, which is nice. (I didn't win the first one, rejection for the second is pending). I haven't looked at Goodreads since pub day, when a crackpot assumed three different identities to log on and call it 'trash'. But if you're not a crackpot, and enjoyed it, please consider telling others! Or actually if you're a crackpot, BUT you also enjoyed it, feel free to give it five stars too. Or you can do it on Amazon 💛